3 Modern Shower Ideas for New Homes
Jason Siddall
Ask any real estate agent or investor what the most important rooms are in a home, and they'll tell you that they're the kitchen and the bathroom.
So, whether you're renovating your own home, or you're working with a developer to create a saleable, modern property portfolio, you'll likely be giving a lot of thought to these essential spaces.
Our focus today is on bathrooms. We're looking specifically at modern shower ideas that can work for all room sizes to create that magical space that adds Rand value, style and comfort.
Modern Shower Ideas – What Are the Trends?
The shifting sands of interior design and decor can sometimes feel difficult to keep up with.
Ideal Home comments on the anticpated trends for 2022 saying, "Following a year of unrest and uncertainty, people have started to gain back confidence and positivity, in everyday life and in our homes…"
"This shift towards a more optimistic mindset has started to be echoed in our design choices. Brave, individual style statements are being made and a desire for warm tones and comforting shapes is prevailing." ~ Oliver Webb, Director at Cullifords.
However, no matter the trend, there is one element that makes an appearance in all style choices from luxury, high-end bathrooms to the most compact apartment: glass. The beauty and practicality of glass in a shower is impossible to beat, as you'll see in the examples below.
Small Spaces with Big Personalities
It can be tricky to create a luxury-feeling in a small space – but it is possible. If you're renovating your bathroom and find yourself stuck for space, then a corner shower may be the solution for you. The minimalistic look of Origin's Corner Entry shower doors allows for a light and airy look, even in the tightest space.
Add warmth with natural stone and wood. A touch here and there will add a feeling of sophistication without overwhelming the space. Use open shelves and a floating vanity unit which helps to open up a small space while still giving ample storage space. While you're at it, why not update your bathroom fixtures? While some adventurous decor enthusiasts love the warmth of older-styled copper taps, others prefer a fresh rose gold or matte black finish.
Of course, mirrors, appropriate lighting, and the softer touches of fluffy towels and candles finish off the luxury-look-for-less.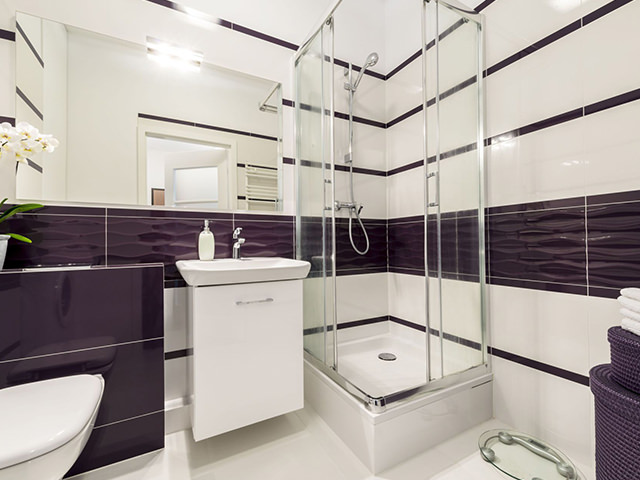 Family Bathrooms and Tricky Spaces
Today's bathroom trends embrace soft tones and welcome the grain and texture of natural stone walls and flooring. How do you include your favourite decor ideas while maintaining a practical, user-friendly bathroom and still make the best use of the space you have?
Many homeowners have found that pivot doors are the best solution for a family shower or a challenging space. With clean lines, watertight seal, and fully reversible door opening left or right, pivot shower doors are the answer to many design woes.
Glass shower doors work well whether you choose a contemporary, monochromatic look, a warm stone and wood design, or an ultra-modern raw cement finish. They simply enhance every design choice.
Complete your family bathroom with large pieces of artwork or a feature wall with fun wallpaper, warm lighting and soft floor mats for those chilly winter months.
Large and Luxurious
Walk in showers or wet rooms are the pinnacle of elegance and go a long way to completing a high-end en-suite bathroom or simply a guest bathroom in a luxury home. Again, designers and developers alike love the sleek and versatile look of a frameless glass wall or bi-slider shower doors that are both safe and practical.
Pair these beautiful glass solutions with clean white tiles, marble finishes, or an industrial stainless steel look and you've got your own personal spa. Luxury bathrooms also sport multifunctional shower heads with a rain shower, a handheld shower head, or a combination of the two for the best shower experience.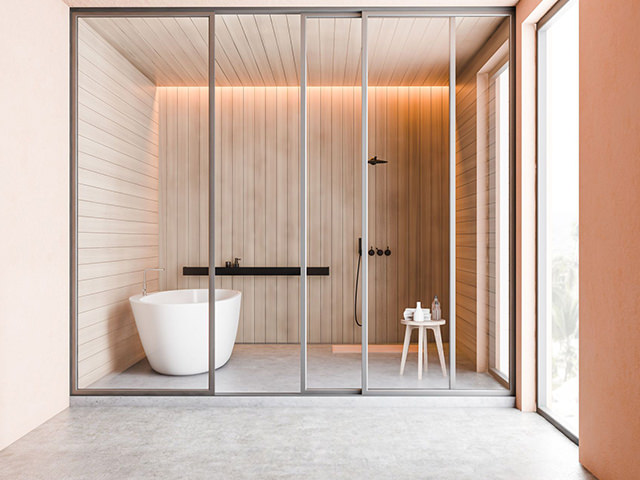 Do You Want it All?
What are your needs?
Our team here at Origin Aluminium work closely with developers, investors, and homeowners to provide the very best shower door products that will last a lifetime. We only work with safe, high-quality, and beautiful materials that we can be proud of.
Whatever modern shower ideas you have, we can help. Please give our friendly team a call for more information.